I love having my blog on WordPress and I love the ease of the Reader.  I can see all my lovely blogs right away with their latest and greatest.  But, I feel like I'm missing out sometimes on other fantastic blogs that are on Blogger.  At first I found making comments on Blogger a lesson in patience.  I found out the hard way that Open ID is not worth using.  It's much easier to get a gmail account. 
With a gmail account I can use my MEoT avatar that is shown on all my comments here at WordPress   You can also put Blogger blogs on your Google reader and of course there is Bloglovin which is a great way to have your Blogger blogs in one place.     
To make matters confusing I had a blog at Blogger and even though it's de-activated if I comment using Google/Gmail it lists that blog as my current blog (???). Therefore I need to use the URL option of making comments on Blogger posts.    The URL I use is of course the MEoT web address.  
Since my web address at WordPress is not my Blog name I use the MEoT as my name.  
The one thing I have not found a work around is that stupid Captcha thing.  Where you have to "prove you are not a robot" to a robot.  
If the blog writer at Blogger does not activate the URL option it's is pretty damn hard to leave a comment. 
Here are a few screen shots for the Blogger comment field. (The URL option is not listed in the screen capture)  I have never used Type pad or AIM.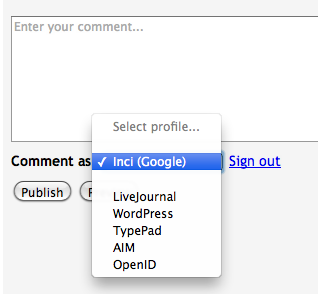 Options might include:
Google Account: If you choose this option, your comment will be attributed to your Blogger display name, which will then link to your Blogger profile. If you've chosen to 

link your blog to Google+

, then the name used on your Google+ profile will show up next to the comment, and link to your Google+ profile.

Anonymous: If the blog owner has allowed anonymous comments, then you'll also have the option to leave a comment anonymously. If you leave an anonymous comment, it will not link back to your blogs, Blogger profile, or Google profile in any way.

OpenID: Learn more about what it means to use 

OpenID

 to leave a comment.

Other third-party sign-in options
Here is a typical view I get
**************************************************************************************************************
It is recommended from the tech community members  in WordPress forums that you do not use Open ID in that it fails.  
From Time Thief  – Member of WordPress 
This is a long standing ussue. Trying to post comments on Blogger blogs is a drag. Open ID fails more often than it works and blosgopt sotware thinks we all have a single username here at wordpress.com and a single blog by the same name. So if we have a domain or more than one blog registered under the same wordpress.com name trying to comment becomes a nightmare.

Answer: Unless the blogger chooses to enable commenters to post with a username and URL it's next to impossible to leave a comment.
****************************************************************************************************************
After writing all this is sounds confusing.  And, I hope I'm not muddling anyone up here.  Long story short:  Use the URL option.  If you have other suggestions please leave them here!